The CES 2023 focused on the Automotive industry
The 2023 edition of the Consumer Electronic Show (CES) in Las Vegas (January 5 to 8) has been marked by a strong return of visitors (more than 115,000) and exhibitors (around 3,300). This new session has also shown the importance of the automotive sector with a positioning oriented on sustainable mobility. The two-wheeler and non-motorized sectors were also represented with several brands of motorcycles, bicycles and electric scooters. Occupying the entire new West hall and part of the North hall, the automotive sector showed its dynamism with an increasingly important electric offer.
The Japanese group Sony announced the creation of a consortium with Honda. Called Sony-Honda Mobility, this new entity will give birth to the Afeela brand. A first vehicle, scheduled for delivery in 2026, was presented at the show. It will feature a number of technologies, such as 45 sensors and cameras driven by artificial intelligence that will monitor the road but also the state of the driver. This first model will also be equipped with Snapdragon technology, developed by Qualcomm, to offer a new onboard experience.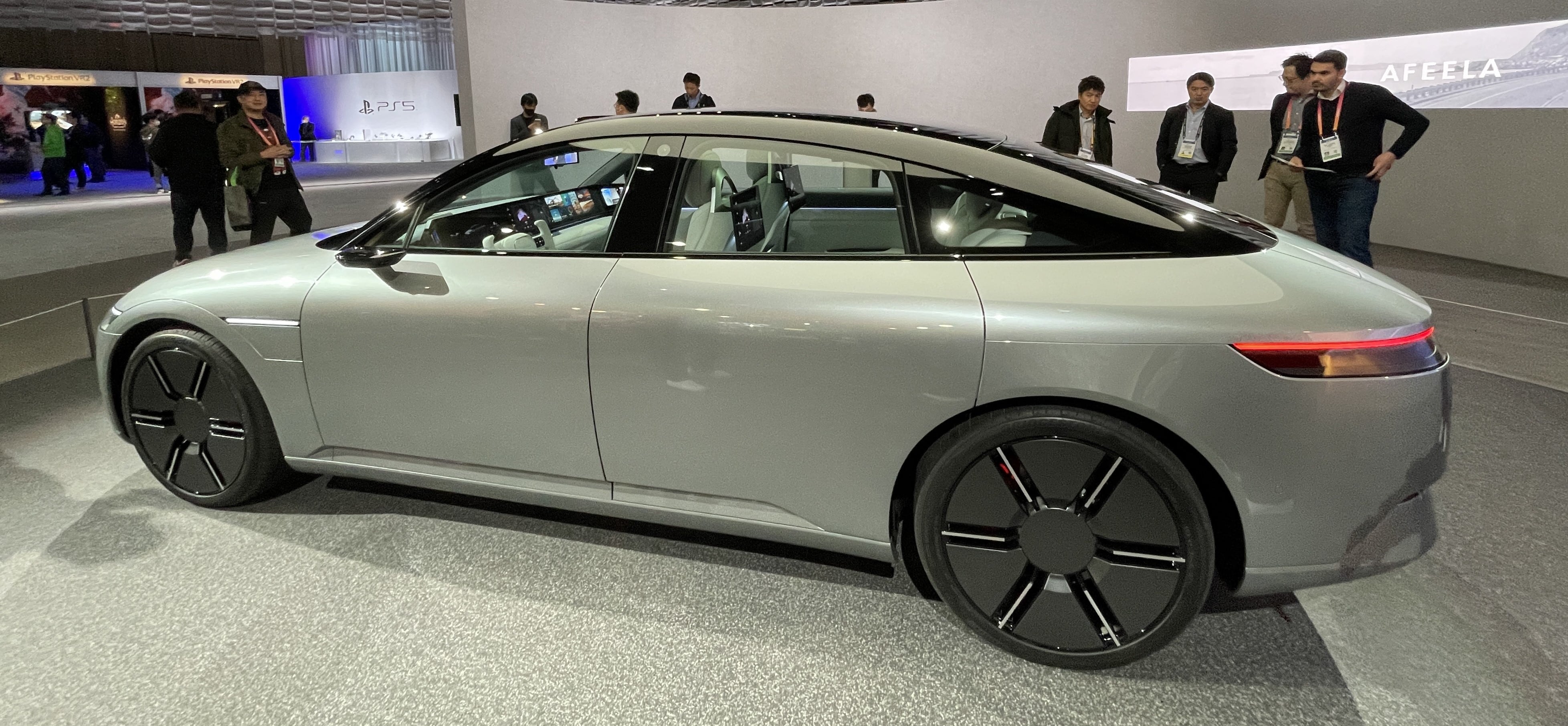 Already on the show last year, BMW was back at CES with its latest color-changing concept car. The carmaker unveiled its color-shifting iX Flow, the iVision Dee is a medium-sized sedan, and enables its owner to either switch between (or combine) 32 different colors. The car will be on the market for consumers from 2025.
Robots to charge the batteries
The Stellantis Group with its RAM brand has unveiled an electric concept of its famous RAM 1500 truck. After Ford (F150) and Chevrolet (Silverado), the American truck market is switching to electric. This RAM electric concept was not far from its final version as it will be released next year. In addition to this new truck, Stellantis and the French company EFI Automotive presented a new system to charge EVs by using induction carried out by a robot connected to an electrical socket.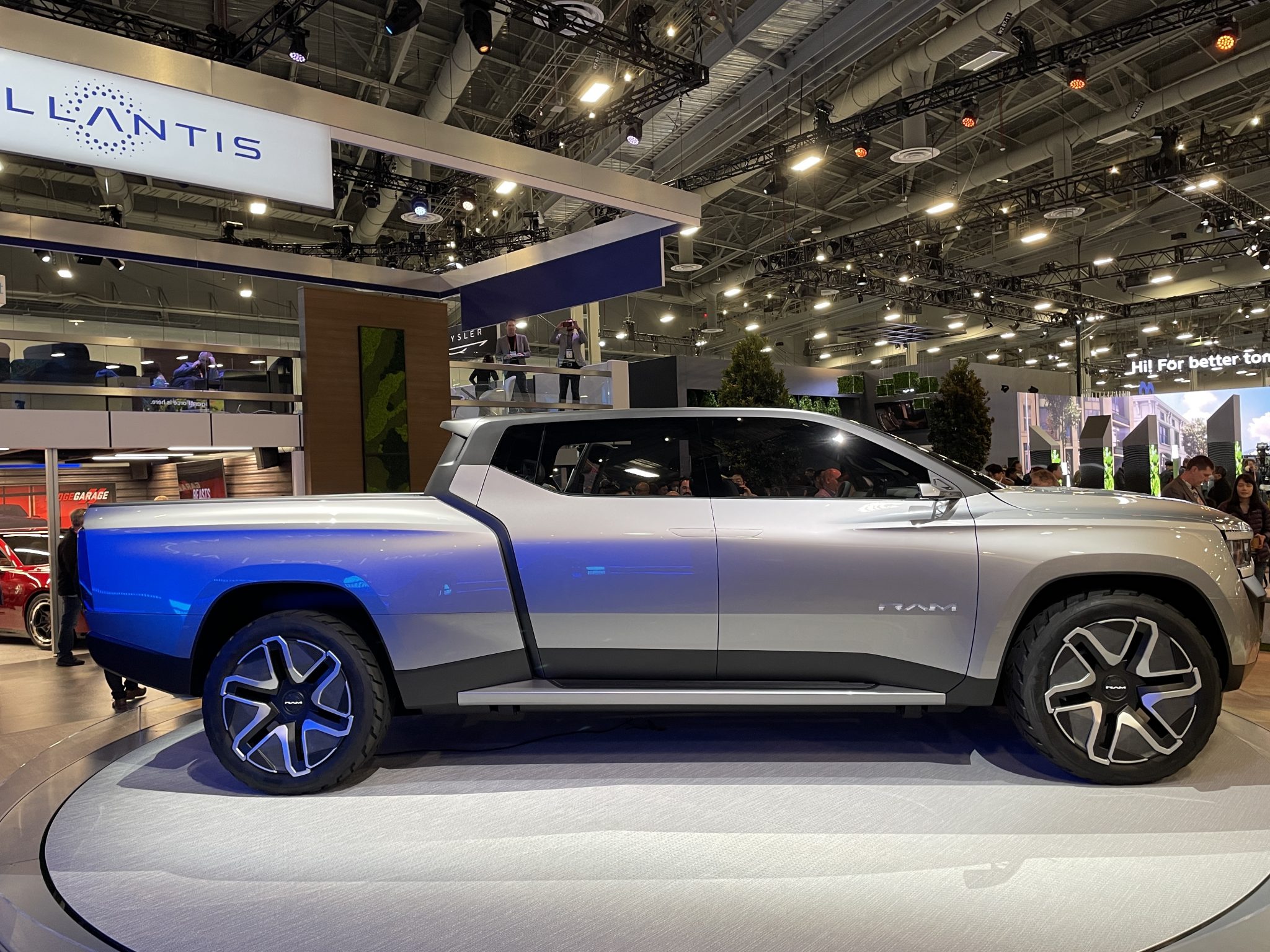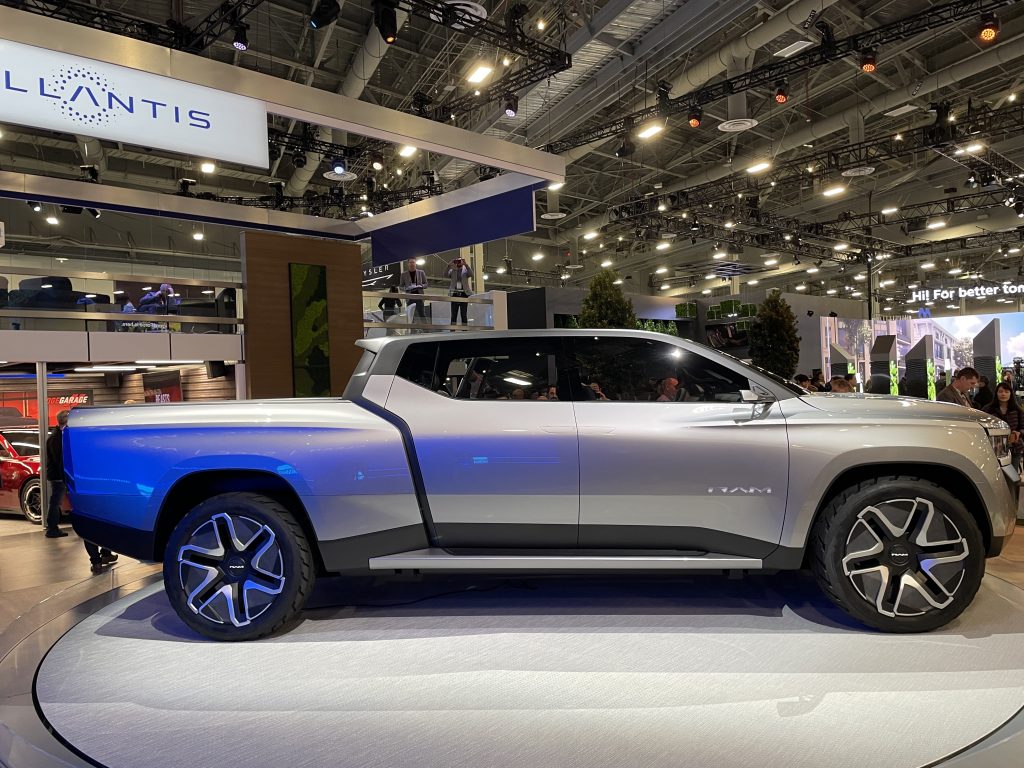 "Thanks to radars, the robot can place itself under a secondary coil located under the vehicle. It took us three years to develop this concept," explains Jean-Baptiste Yvon, Vice President in charge of programs of EFI Automotive. This solution can be used by individuals, but also by professionals who operate specialized parking lots for electric cars.
In addition to EFI Automotive, the Korean Evar has also unveiled a robot that plugs itself into a socket on a pillar where the chargers are connected. The robot is also autonomous but the concept goes further. Indeed, with a battery charger, it is possible to recharge several cars at the same time, because the electricity passes from one car to another. Supported by Samsung, the start-up has already sold some 20,000 chargers in Korea. Among the other chargers manufacturers, many companies, such as Samsung or SK, have unveiled compact and light chargers for EVs for home.
Regarding safety, CES has once again shown many solutions using Lidar and Radar technologies. Currently, the French company YoGoKo has developed a system that is already in circulation. "Our solution is already deployed on buses, cars and bicycles," explains Didier Ledain, YoGoKo's managing director. YoGoKo works in particular with iRider, a company specialized in intelligent driver assistance systems (IRAS) using vision and artificial intelligence (AI). Other companies such as Autotalks and Spoke were also showing their systems.
Regarding Radar technology, the French company Plastic Omnium unveiled a car bumper that can integrate two to six radars. At the CES 2023, Plastic Omnium also announced the creation of OP'nSoft, a brand new business 100% dedicated to developing software for its own products and services. "OP'n Soft will enable Plastic Omnium to offer its customers a unique range of integrated solutions and services, such as the fusion of radar data processing software with lighting technologies," explained Laurent Favre, CEO of Plastic Omnium.
The electric two-wheelers offer is declining
While a track dedicated to electric bikes and scooters had been installed in 2022, the CES organizers did not want to repeat the operation this year. This does not prevent the show from hosting several brands, including a significant presence of Asian manufacturers such as Invanti (5thWheel), Komda and others. Invanti was showcasing its newest brand of EVs with the goal of finding distributors in the US and Europe. "We are capable of producing between 70,000 and 80,000 electric bikes per year in our Shenzhen factory," said Sunny Wu, Invanti's COO. For its part, Komda showed its know-how in miniaturization with a folding e-bike integrating a light and compact battery of less than 200 Wh positioned on the handlebars of the bike. This interesting concept is also used by the manufacturer Micro and its folding electric bike.
Among the exhibitors, the iconic American electronic brand RCA unveiled its first range of e-bikes and e-scooters. The brand launched three e-bikes and four e-scooters in an effort to appeal to younger consumers. In addition, Swedish brand Cake presented its modular e-cargo called Åik, which will be released in 2023. "We have developed the motor (100 Nm) and it is possible to integrate three batteries (2,250 Wh) to guarantee a 360 km range. The Åik will be sold for around €6,500 and we will also offer different bundles," says Kevin Klein, the brand's B2B director.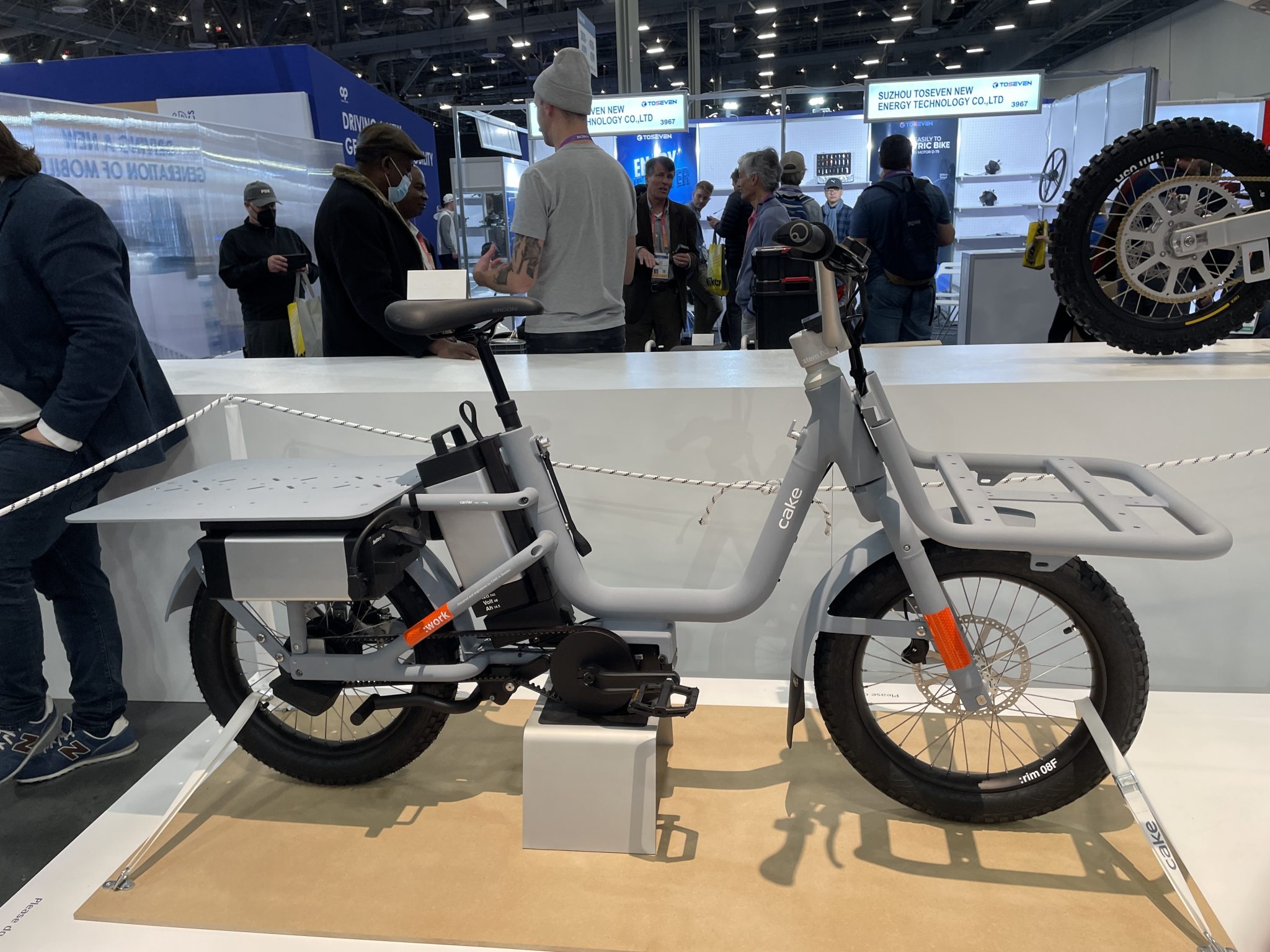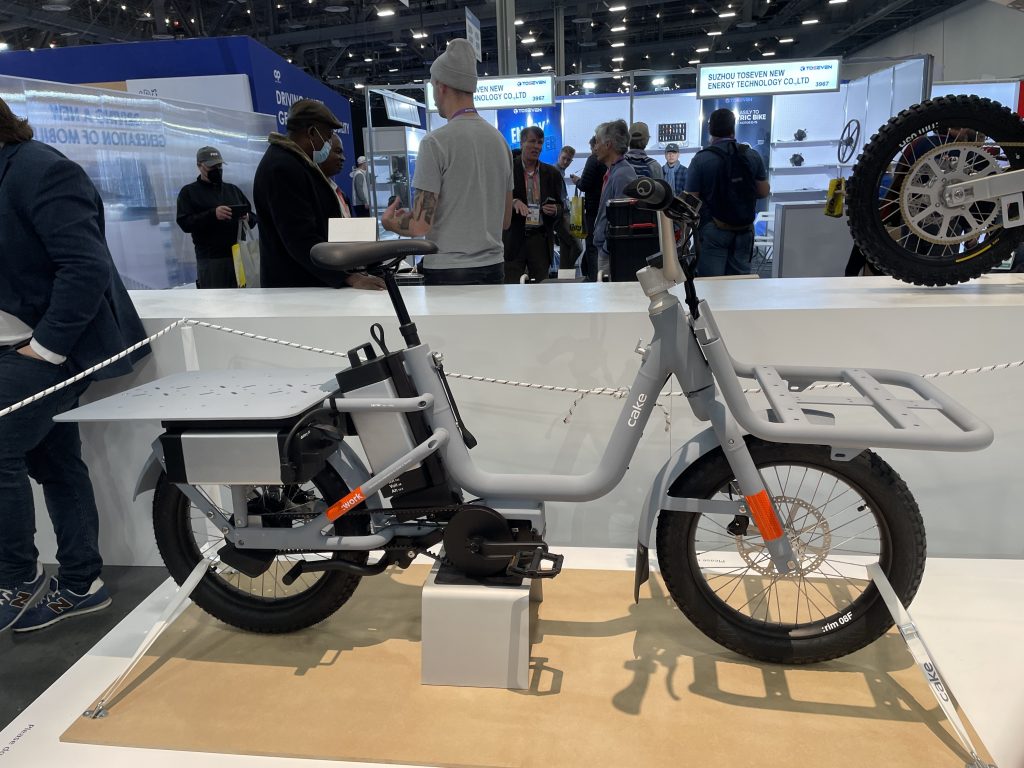 To conclude, Vietnamese manufacturer Vinfast presented some models with a European design. Unfortunately, they are still concepts and the brand was not able to give a release date. "We are collecting information about our products to see how visitors react," explained a brand representative.
Submit your article
for the upcoming Mobility Vision