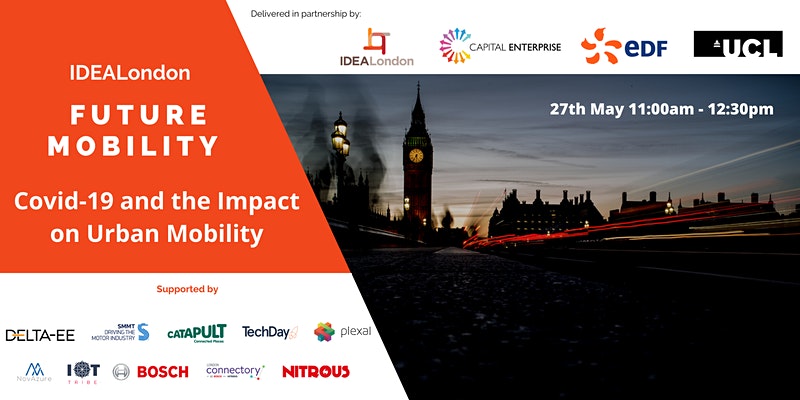 Next Event
Date

09 Jun 2020

Time

PACIFIC TIME
10:00 am - 11:00 am
Join the IDEALondon Future Mobility event as we explore the impact of COVID-19 on urban travel, the emergency responses, opportunities and longer-term implications for the UK.
The impact of Covid-19 has been felt across the entire urban transportation system with many services temporarily paused or reduced. Does this abrupt intervention represent an opportunity for the transportation system to stop and rethink how we move people & things around a city?
From public transport to shared services, active travel, deliveries and the rise of micromobility – the impact of COVID-19 on the UK's transport sector has been huge. With the UK transport secretary Grant Shapps announcing a £2 billion investment in cycling and walking to help get Britain moving and with the unveiling of a new e-scooter scheme set for trial in Birmingham & Milton Keynes – it appears that COVID-19 has managed to do in weeks what active travel campaigners have attempted to do in years.
Will this emergency intervention fast-track approach accelerate the opportunity for other modes such as drone for deliveries in addition to the prioritisation of cycling and walking?
Join us on 27th May as we hear from expert panellists and startups as we explore what the challenges and opportunities are for citizens and those working in the mobility sectors in our cities.
Next Event
Date

09 Jun 2020

Time

PACIFIC TIME
10:00 am - 11:00 am
FOLLOW THE MOVEMENT 🚀 #MOBILITYMAKERS
Copyright © 2020 Mobility Makers