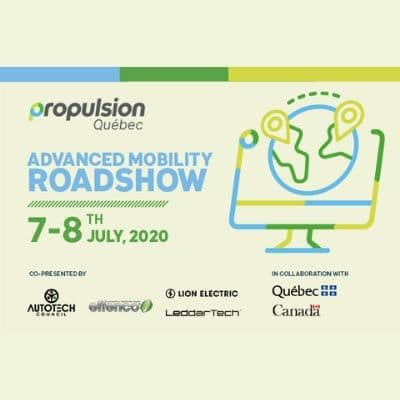 Next Event
Date

14 Jul 2020

Time

ET
2:00 pm - 2:30 pm
Join Autotech Council members, vendors and investors and their cross-industry colleagues from transportation, automotive, and robotics to discover new companies innovating across batteries, electrification, trucking, heavy equipment, connected vehicles and connectivity technologies.
This Roadshow, a virtual trade mission organized by Propulsion Québec, will introduce 15 innovative companies and startups from Canada's Québec Province. The Roadshow runs for 2 days and includes 2-hours of online rapid fire pitches, a virtual expo with demos and deeper technology and product information, and 2 days of 15-minute private followup meetings with the young companies for participants of the MatchMaker service.
Through this virtual trade mission, attendees will meet a group of very innovative organizations from Québec. This Canadian province is recognized for its high-caliber research capabilities and leading manufacturers in the electric and smart transportation sector. The presenting companies and startups are working across electrification, trucking, and connected vehicles and their specific technologies are listed in the online agenda. Their technologies are ready to scale. Their products are ready to deploy, and in some cases have already started. And, in some cases their companies are open to investment.
ABOUT THIS EVENT:
This executive-format, public agenda is free and open to members and guests of the Autotech Council. It uses an interactive online format for pitches, discovery, and introductions that promotes relationships between speakers and member companies. The MatchMaker meeting service is a benefit of membership and only available to members.
Next Event
Date

14 Jul 2020

Time

ET
2:00 pm - 2:30 pm
FOLLOW THE MOVEMENT 🚀 #MOBILITYMAKERS
Copyright © 2020 Mobility Makers